Before we get into detail of what is Keystone species and what do they do exactly, allow me to briefly discuss what exactly keystone species is and what it means.
A keystone species is whenever the actions of a predator can cause changes to the rest of the behavior of the environment. Say, there's less of predators now, the environment changes by increasing the number in prey. That is so because, if there are less predators, then there are less of them to feed upon the prey, so now the preys can easily multiply not having to worry about being eaten by the predators. A keystone species is basically an environmental system in which a species plays the role of someone who's presence or absence can cause change to its surroundings (the simplest way I could possibly describe ToT)
If that paragraph wasn't a good enough explanation, let me give you an example in which the keystone species system takes place.
Believe it or not grizzly bears are actually part of keystone species group. Here's why…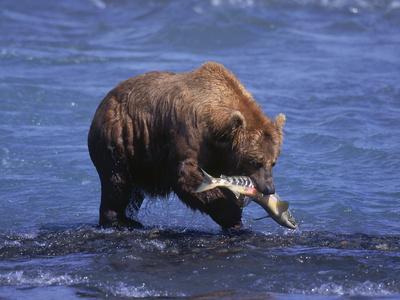 Grizzly bears mainly play the part of what people call the 'gardner', their job is to maintain a healthy and enriched looking forest. You're probably asking, "Huh? Bears in charge of keeping forest healthy? Pfft no way, they eat, scavenge, sleep (a lot), and live their life." Well, if you overlook the life of a grizzly bear briefly, then sure that's how many can interpret their lifestyle. Grizzly bears are more than that though. You see, when they feed off of salmon or any other creature, the grizzly's would then throw them off to nearby trees. Since carcasses of these animals are high in nutrients, they are what keeps the trees looking more alive and fresh.
Now, to explain how this really makes up the system of keystone species, let's say that people started to hunt a lot more on the grizzly bears which in result, start to die off, decreasing the population of the bears. That's an increase amount of salmon and other creatures that usually get eaten by the grizzly's. Now we know that grizzly bears aren't the only ones that feed off of salmon or some other smaller creature, but what I mean is that the salmon population can increase by a little due to the absence of grizzly bears. Since the absence of bears decreases as the salmon increases, there's now nobody to carry carcasses of salmon to the trees and therefore the trees can soon die off.
See how drastic the change is whenever the bears start to disappear? Their absence alone caused many things to happen such as; the sudden increase in salmon and other small typical preys, unhealthy state of the trees and the forest. There's an unbalance in nature that occurs when Grizzly bears die off, that's why to keep this balance and ecosystem going there's always relatively a good amount of the bears, salmon, and other small creatures to help maintain a healthier looking and fresh forest. That's why the presence of the Grizzly bears are important to the environment.
What an essay 😅. Thanks for stopping by and reading it. I hope you enjoyed it or learned something new from it. I'll be posting more soon and have a great day!